31 Aug 2023

The Secret Sauce Tastes Like Work

One of my all-time favorite sporting events—the summer Olympics—will be held in Paris next year, which means that world championships in sports like swimming, gymnastics, and track and field are being watched with an extra bit of scrutiny this year. 

But, while I love track and field—including this week's incredible chase-down victory by 23-year old Dutch track phenom Femke Bol in the women's 4X400 relay—what I'm most excited for is the prospect of watching Katie Ledecky and Simone Biles. These women are like walking category errors—they are competing in the same arenas as other long distance swimmers and gymnasts, respectively, and performing some loose definition of the same sport as their competitors, but they are so, so, so much better than anyone has ever been in their field that it's like watching something completely different. 

For example, if you go to the USA Swimming website which lists all-time performances in various events, and you select the 1500m women's freestyle, you will find that Katie Ledecky has the top 16 times ever recorded in the event and 21 of the top 25. If you select the 800m women's freestyle, the only name in the top 25 fastest times in history is Katie Ledecky. Not only that, but when you watch a race of hers, it is typical for her to be the only swimmer in frame on the screen when she finishes. They are blowout wins (see below).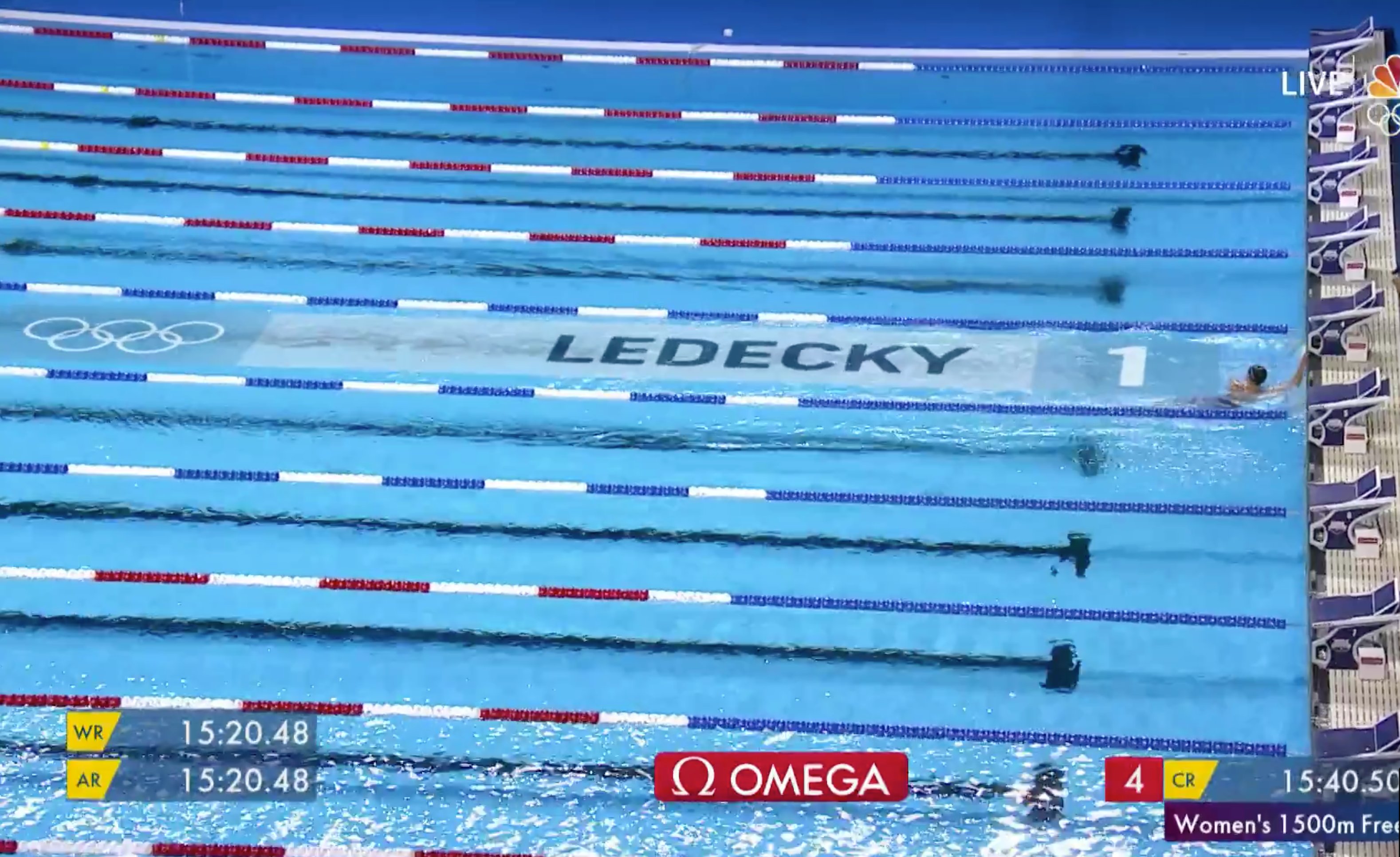 And the story is the same for Simone Biles (who I have written about before!). En route to her 8th U.S. national all-around title this past week, Biles yet again completed a flawless "Yurchenko double pike" (a skill she is the only woman ever to attempt in competition). Competing next to the best gymnasts in the world, she is creating actual scoring problems for judges, who have struggled to know how to score routines which incorporate skills and abilities no one else can come close to replicating.
---
You and I can't relate to these women when it comes to their athletic dominance, but listen to what they said after their recent wins:
Katie Ledecky: "The secret is just a lot of hard work and having really great people around me."
Simone Biles: "I think overall, I hit eight for eight." (This is in reference to focusing on "performing every routine on all four apparatus over the two days of championships mistake-free and as they would on any normal day in the gym. Stay off social media. Stay present. Block out the pressure. And don't give the meet too much importance.")
Your goals probably don't include winning a gold medal. Maybe you want to give more money away and feel clarity about how that fits in with your saving and spending. Maybe you want to know how much you need to save and where so that you can retire or educate your kids or send your grandkids on a trip. Maybe you want to feel better about your invested assets. Whatever the case may be, there are a few incredibly important things to pull from the quotes above:
The secret sauce is work. 

There are no short cuts. You will have to decide what is important to you and then commit to a long time horizon of consistent, repeatable actions that match that importance.

You can't do it alone. 

Surrounding yourself with peers and coaches who have a vested interest in what is important to you is a necessity, not a luxury.

Process over outcomes, always. 

As sculptor Elizabeth King said, "Process saves us from the poverty of our intentions." Good decisions will sometimes have bad outcomes and vice versa, but because we know the secret sauce is consistent, repeatable work over long periods of time, we know that good decisions stack up and become almost indistinguishable from outcomes in the end.
We all have changes we're trying to make to improve our financial well-being. These changes won't happen quickly, haphazardly, or in a vacuum. But they can happen. And when they do, we may achieve something of more importance than a medal. 
The content above is for informational and educational purposes only. Any links are being provided as a convenience; they do not constitute an endorsement or an approval by Beacon Wealthcare, nor does Beacon guarantee the accuracy of the information.